Numerous health studies have proven beyond doubt that sitting at a desk for prolonged periods is extremely bad for your health.
Fortunately, many medical professionals including doctors and physiotherapists offer practical suggestions and advice to alleviate or prevent chronic back pain and other serious conditions. Most of these are caused by one habit: bad posture.
Once thought controversial, standing desks are becoming more commonplace in the work environment, whether in a formal office or at home. The health benefits are evident, and the overall conclusion is that if you do not suffer physical discomfort you will be more productive.
WHICH STANDING DESK IS BEST?
There are a number of standing desks on the market. We will look at two brands; the FlexiSpot Comhar and the IKEA Bekant.
There is the FlexiSpot Comhar;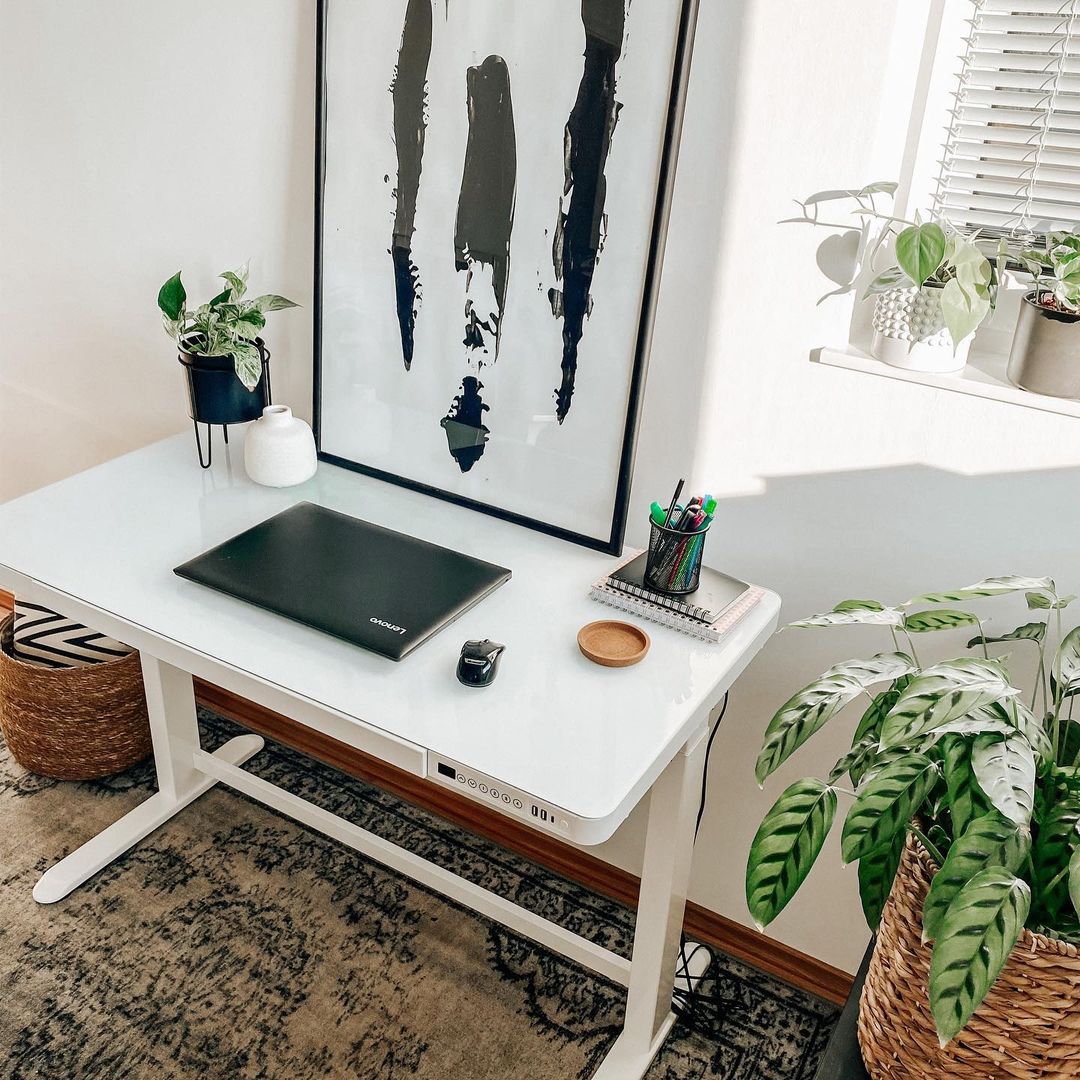 We will also look at the IKEA Bekant as a comparison.
So, what are the differences between the three standing desks?
Price
The Comhar All-in-One Standing Desk Glass Top EG8 usually retails at £399.99

The IKEA Bekant currently retails at £395.00
Desk Top Materials
The FlexiSpot Comhar glass top standing desk comprises tempered glass

The IKEA Bekant standing desk tabletop comprises particleboard, melamine foil and plastic edging
Dimensions
FlexiSpot Comhar standing desks measure 120*60cm

The compact size of the FlexiSpot standing desks allow them to be placed in unobtrusive areas. For both desktop and laptop users, these desks will hold two monitors, a keyboard and mouse plus allowing space for paperwork.

The IKEA Bekant standing desk measures 120*80cm. These generous dimensions of the IKEA Bekant will hold all your electronic equipment comfortably while allowing you to spread out with large jobs.Castors allow you to easily move the desk into its ideal position.
Height adjust range
FlexiSpot Comhar standing desks adjust between 72-121cm consisting of 4 programmed preset heights. This allows you to adjust the height from your optimal sitting position to your preferred standing position and back, literally at the touch of a button. Your laptop or monitor, mouse and keyboard remain within your ideal reach. The four programmable preset heights accommodate multiple users.

The IKEA Bekant standing desk adjusts between 65 -125 cm at the touch of a button
Load Bearing
FlexiSpot Comhar standing desks bear 50kg

The IKEA Bekant standing desk bears 70kg
Additional features
FlexiSpot Comhar standing desks contain
Three device charging ports; 2 x USB Type-A and 1 USB Type-C

An anti-collision safety feature

Child lock button

Built-in storage

Levelling glides for the legs
The IKEA Bekant does not contain any of these additional features.
Now that we've discussed the technical features, who should use a standing desk? The answer is simple – everyone who uses a standard desk.
Health issues
We've touched on the health aspects of using a standing desk, but let's discuss this in more depth. Every medical practitioner emphasizes that one golden rule must be followed to ensure optimum health: get up and move.
The human body is not designed to sit almost motionless for hours at a time. This is especially true when you may be hunched over and peering at your screen because either your desk, chair or monitor are at the wrong height.
The effects of a mostly sedentary lifestyle if you spend many hours a day at your computer have been proven to cause discomfort at beast, and be life threatening at worst. Discomfort comes in many forms and levels, from general backache, and a stiff neck, to headaches and chronic pain. Not getting up and moving at least every half hour can result in weight gain to the point of obesity and other potentially severe health issues.
If you do experience discomfort at your desk, chiropractor Dr. Kristine Lyons, B.Sc. (HK), D.C. offers some advice on six simple exercises to do at your desk. She recommends implementing these regularly:
neck rolls

shoulder rolls

calf raises

hamstring stretches

knee to chest bends

deep breathing
These exercises will free up your constricted muscles and joints, making you feel refreshed and recharged. They will only take up a few minutes of your day but will go a long way to maintaining your optimal health.
Our blood sugar levels spike after eating and standing rather than sitting allows more calories to be burnt, thus reducing the potential of developing Type 2 diabetes. You will be more flexible as your muscles will not lock into one position, causing stiffness and pain when you do eventually stand up. Regular exercise, even a short walk, will be beneficial by reducing fatigue and increasing energy levels.
A standing desk is the ideal piece of equipment to prevent bad posture and keep you moving more frequently. The thought of standing at a desk while typing a long assignment may sound daunting, but if combined with sensible periods of sitting, the health benefits will be felt almost immediately. When you first use your standing chair, ease yourself into it by only standing for 10-15 minutes at a time to begin with. This can gradually be increased to as much as half or two thirds of your working day.
Conclusion
With the FlexiSpot Comhar desk and the IKEA Bekant allowing you to change the height of your desk effortlessly, you will be able to stand and sit to suit your ideal comfort levels.
We can see from these discussions that any standing desk has its benefits. However, to parody George Orwell, 'some are more equal than others'.
The FlexiSpot Comhar desk offer complete value for money, with additional well thought out features to provide maximum convenience to the user. IKEA is a household name and their products undoubtedly offer equitable value. However, if a point-to-point comparison is made, it is apparent that FlexiSpot is the way to go. Their products are designed specifically with additional needsof the user in mind and expand on their competitors' products with style and panache. 
Using code BL-20 to get £80 off (Only for EG8)